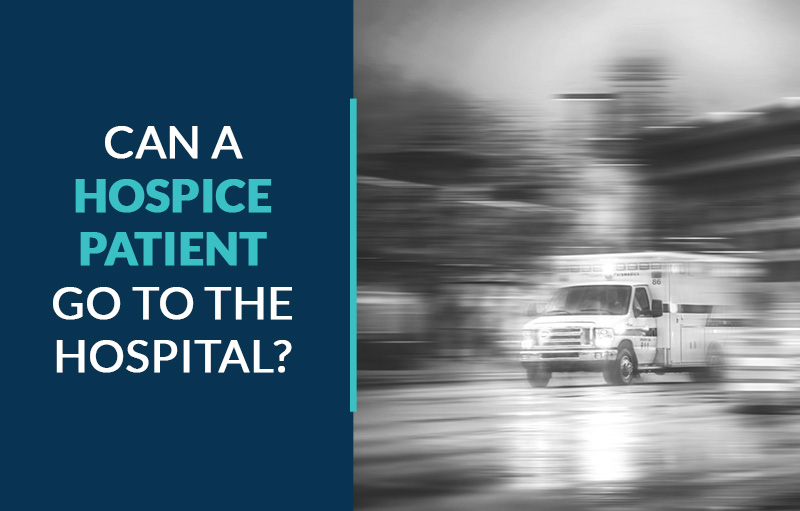 Hospice care is not meant to be stressful for you or your family, but anxiety on behalf of your loved one is to be expected. For as much as your family's hospice care provider educates you on your loved one's treatment, there may come a time when the nurse is absent, your loved one has an emergency, and you panic. While dialing 911 should not be your first instinct, a hospice patient can go to a hospital. However, there are a few matters that you should be aware of before you hit the Call button.
For information on getting your loved one into a Las Vegas hospice,
Call us (702) 509-5276
Can a Hospice Patient Go to the Hospital or Emergency Room?
Yes, but hospice is meant to act as your loved one's primary care provider. Treatment is geared toward relieving pain and other symptoms of their illness to maximize the patient's comfort and quality of life. It is important to recognize the difference between common discomfort due to your loved one's diagnosis and a real emergency, such as an external accident.
Your hospice team will do their best to help you recognize symptoms typical to your loved one's condition versus unrelated ailments. Similarly, though many people believe that signing up for hospice requires the patient to sign a DNR, this is not true. The hospice team can help you determine if and when is the best time to sign a DNR. The patient also has the option at any time to restart treatment towards a cure, in which case hospice care could be terminated.
Related: Will Hospice and DNR Status Cause a Confliction?
The Hospice Nurse Should Be the Main Point of Contact for Any Medical Needs
As the primary caretaker, the hospice nurse should be your first contact in regards to your loved one's health. Above everyone else, he or she knows the most about your loved one's condition and medical needs. Further, the hospice nurse is well versed in what treatments Medicare will cover and if your loved one's situation will require said treatments.
In an actual emergency, it should be the nurse, not you or another family member, who contacts emergency services, to ensure that all treatments are covered by Medicare. Most importantly, the nurse knows the medications your loved one is taking and can aptly inform emergency personnel in the event that they are summoned. This will prevent EMS from providing any medicines that might react badly to those your loved one already has in his or her system.
Related: Is Morphine Necessary for Pain Management in Hospice?
When Is It Appropriate for a Hospice Patient to Go to the Hospital?
A hospital visit is warranted when the injury or illness is unrelated to the hospice diagnosis, such as a patient with terminal cancer sustaining a broken bone or other accident-related injury. Hospice is meant to improve a patient's quality of life, not cure the disease, which is a hospital's goal when they provide their services. When patients admit themselves into a hospital for treatment related to their hospice illness, they revoke their hospice care.
Hospice Will Not Cover Medical Expenses That Were Not Authorized
When a hospice nurse calls 911, he or she gives the operator a code, covering medical expenses through Medicare as well as informing EMS personnel that the patient they're about to receive is under hospice care. This way, they will not attempt to treat your loved one's hospice diagnosis symptoms. Though certain EMS personnel might catch on to the fact that they're treating a hospice patient without receiving word, this might not always be the case.
If you neglect to inform hospice of the emergency and simply call 911 yourself, hospice cannot provide the aforementioned code, and all medical expenses will be through you. Similarly, as mentioned, going to the hospital to treat hospice diagnosis-related symptoms means you've bypassed and revoked hospice care, so hospice will not cover those costs.
Though hospice care at its core is meant to be an alternative to hospitalization, this does not mean hospice patients cannot go to the hospital. In the unfortunate event that an emergency happens—an accident or fall of some sort—a hospital visit is absolutely acceptable. What's important is to call emergency services through the proper channels, i.e. the hospice nurse. Being a hospice patient does not prohibit anyone from seeking medical assistance when needed, however needed, but being knowledgeable about the process is vital to ensure that your loved one is given the correct care.